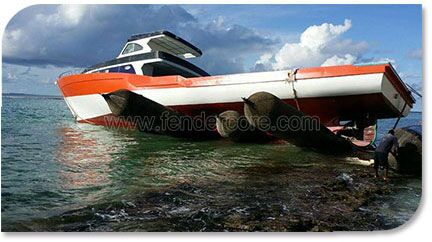 Overview
Marine salvage airbag is another application of ship launching airbags . Marine Salvage Airbags is the toughest air lifting bags. It can be used as salvage pontoon for the supporting docks, and other floating structures. Also can be used to salvage the shipwreck, rescue the floating bridge and dock construction. It really come into own when marine salvage airbags employed in heavy duty salvage work under severe environment.
Features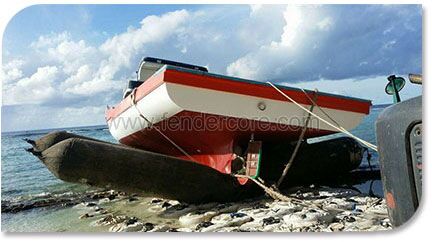 1. Special synthetic tire-cord layer material
Our "Ship salvage airbags" are made with special synthetic tire-cord layers, which have much better performance than those made with PVC coated fabrics.
2. High-Pressure Design
Salvage airbags have a maximum working pressure of 0.25 Mpa. That means they can be used under 25m water-depth.
3. Holistic Screw Type Salvage Airbags
Our "Marine Salvage Airbags" are a totally enclosed tube with cone ends. It is manufactured using Holistic Screw technology. This design ensures that there aren't any welded seams. This makes them stronger than RF welded salvage airbags.
4. Equipped with accessories
Our Salvage lifting bags are equipped with rubber handles, nylon rope net and pulling rings.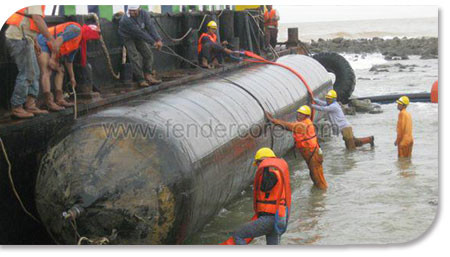 Application
Alternatives to rigid pontoon
Marine salvage airbags with high buoyancy form 10 tons to 50 tons per piece, are perfect for supporting docks, floating bridges and other floating structures with insufficient buoyancy or shortage of lifting capacity from barge crane. Meanwhile, they are the best choice for where traditional rigid pontoons are not applicable such as rescuing some capsizing vessels.
Drain function
Vessel cabins can be filled with marine salvage airbags to drive water out and restore buoyancy of vessels when airbags are inflated with air. Normally, maximum pressure of cabins and decks should be calculated before inserting airbags into cabins to check. Sometimes, reinforcements should to be done to make sure that the deck and cabin can withstand the pressure from marine salvage airbags.
Jack stranded & sunken vessels up
For stranded vessels even more than 200 tons in weight, marine salvage airbags can be applied to jack them up and send them back to water without needs of dredging watercourse or using crane airbag. For sunken vessels, insert marine salvage airbags between the bottom or seabed of vessels, then fill them with air to increase buoyancy of sunken vessels and jack vessels up.
Caisson launching
In low water season, insufficient water level makes ship launching and caisson launching impossible. So buoyancy tanks and bags are needed. Our marine salvage airbags, not only can jack stranded or sunken vessels up, but also capable to provide a safe and smooth launch of vessels up to 5,000 tons or caissons up to 8,000 tons.